RUSSELL HOBBS Jug Kettle – Glass & Stainless Steel | 24191
Allows you to watch the water as it boils
Brushed steel casing and polished accents give the design
Compact design
Capacity: 0.8L
Allows making up to four 200ml cups at a time
Illuminated light ring
Push button lid
Washable filter
360-degree base with integrated cord storage
RUSSELL HOBBS Jug Kettle – Glass & Stainless Steel | 24191
Allows you to watch the water as it boils
Brushed steel casing and polished accents give the design
Compact design
Capacity: 0.8L
Allows making up to four 200ml cups at a time
Illuminated light ring
Push button lid
Washable filter
360-degree base with integrated cord storage
Compact Home Glass Kettle
---
Do you dream of a kettle that gives you a powerful performance, is the perfect size for making brews and still saves you space in your kitchen? Well now with the Compact Home Glass Kettle, you can have it all. Combining brushed and polished stainless steel with premium glass, this small kettle makes a style statement in any kitchen. Being proof that all good things come in small packages, the Compact Home Glass Kettle is the perfect size if you're enjoying a relaxing brew to yourself or even to cater for cuppas with friends. The Compact Home Glass Kettle is an ideal size for those of you with less space, your home away from home or if you're just looking to keep your kitchen counter clutter-free.
---
Perfect Pour
The shape of the spout ensures a precise single stream when pouring.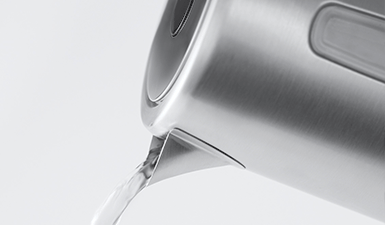 Blue illuminating light ring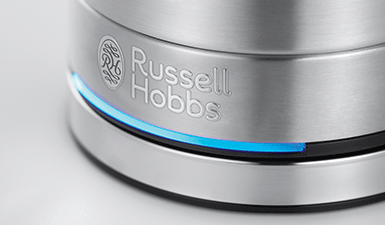 The Compact Home Brushed Kettle has a tranquil blue power light that illuminates when your kettle is on and boiling. This calming colour casts itself over your kitchen counter, letting you await your cuppa in complete peace.